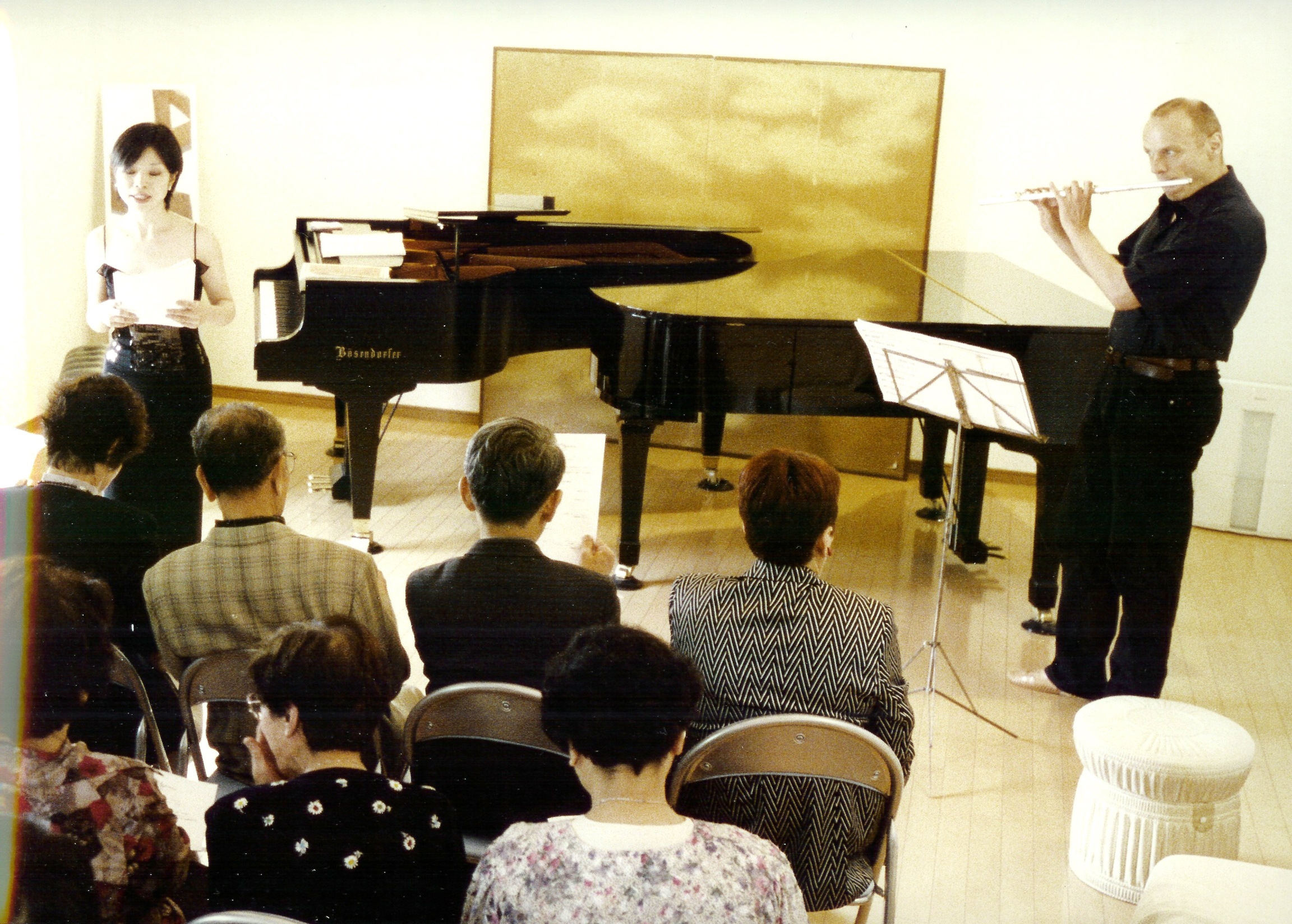 International Music  Academy Maestro was founded in 2002 in connection with the Alexander Technique Centre(ATC)Kyoto, Japan( www.alexandertechnique.ne.jp) to create a new kind of cultural forum in Japan. Since then IMA Maestro offers fundamental education for pianists combined with qualified lessons in the Alexander Technique and regular concerts with international artists. Every month invited musicians play various classical programs on Sunday afternoon.
Education ~Piano & Alexander Technique in connection with the Alexander Technique Center Kyoto, Japan ~
Do you belong to a group of musicians and performing artists who remember that they are delicate instruments too?
If you would like to experience more ease, confidence,a fuller range of expression as an artist and performer, and have more presence with your self, your instrument and music,and your audience you may visit our lessons. For over 100 years the Alexander Work has been helping individuals enhance their kinesthetic integrity by letting go of unconscious mind and body habits that interfere with their natural way of being and performing in life.
Lessons
Alexander teacher Mr.Lucas Lorenzi (JSTAT) teaching a pianist "Inhibition, Non-Doing, Giving Direction and Balance" through intensive skills-based hands-on instruction, while playing the piano.The Alexander Technique Centre ATC Kyoto ( www.alexandertechnique.ne.jp) in Japan is of value to anyone (teachers, teacher trainees or students) interested in the application of the Technique to aspects of music making. In ATC Kyoto we learn how to stop working against ourselfs. This applies not only to playing our instrument, but also to many other aspects of our life. We start our music making from a poised place and move forward as opposed to having our artistic impulses throttled by unconstructive habits. Here you see pictures of an ATC lesson in the Alexander Technique. Alexander teacher Mr.Lucas Lorenzi (JSTAT) teaching chair work (applying the head, neck & back relationship to create and experience balanced conditions before playing the piano) in front of a mirror to a japanese musician (pianist).  In our lessons they experience the innate lightness, ease, and grace that comes when thinking and movement are one integrated action; thus giving up the stress and disconnectedness that comes when mind and body are split,and thinking and movement are seperate. Participants of our lessons for pianists cultivate their personal sensitivity and can have individual "hands on"experience with the Alexander Technique in connection with the Alexander Technique Centre Kyoto,Japan www.alexandertechnique.ne.jp.
Seminar, Salonconcert
International Music Academy Maestro is connected with the Alexander Centre (ATC) Kyoto,Japan and its second and third studios in Osaka & Tokyo.The institutions offer individual lessons, introductory workshops and seminars for musicians ("The Alexander Technique and Enhancing the Quality of Your Performances") in Hiroshima (Elisabeth University of Music), Chiba, Kobe, Nishinomiya (Nishinomiya Music Society), Osaka (Osaka University of Arts, YAMAHA Music Osaka, Musicians' Union of Japan, Osaka Musikverein), Kyoto (Kyoto Women's University / Kyoto City University of Arts) Tokyo and other japanese cities.
For more details about the Alexander Work for instrumentalists and how to bring an Alexander workshop to your area contact the IMA Maestro or the Alexander Technique Centre (ATC) in Kyoto-info@.alexandertechnique.ne.jp.
Lucas Lorenzi
Born in Freiburg, Germany. Coming from a musical family, he worked as a flutist in various state music schools in Europe. From 1982 to 85 he had education at the teachers training school for F.M.Alexander Technique Basel, Switzerland. Lucas Lorenzi had significant involvement with schools and their trainings and has been instructor for the Alexander Technique at the State Conservartory of Music Trossingen and the European Parliament in Strasbourg. Intensively he taught the Technique in music performance clases to a huge variety of orchestra players, chamber musicians, soloists and professors and has given many
seminars and courses. The class of Lucas Lorenzi has gained high reputation among many of orchestra musicians, soloists, music students, who aim at having progress or suffer from an occupational desease.He was certified by the London based Society of Teachers of the Alexander Technique STAT and is now an active teaching member of the japanese branch Japan's Solidarity of Teachers of the Alexander Technique JSTAT (www.jstat.jp).In 2004 he founded the Japan Alexander Teaching and Training Corporation JATTC. Lucas Lorenzi directs the Alexander Technique Centre (ATC) Kyoto – www.alexandertechnique.ne.jp – where private Alexander lessons, workshops and teacher training in the Alexander Technique are offered. He playes original wood and silver flutes made by the world famous masters of the Hammig family.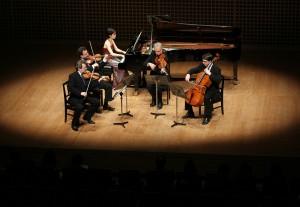 Junko Kasahara
Born in New Jersey, USA. Studied at the Osaka University of Arts, Japan and continued her studies as a postgraduate student at the St.Petersburg State Conservatory, Ecole Normal de Paris, and the Musikhochschule Saarbruecken (Konzert& Solisten Examen)in Germany.
She has been invited to many international music festivals and given numerous recitals in Japan, Germany, Spain,France, Italy, Israel, Russia,Finland, USA and Latin America. Junko Kasahara has also played chamber music with many musicians such as Berliner Philharmoniker members, Zagreb string quartet and played with many orchestras in Europe and Japan.
Press reviews 
…The pianist Junko Kasahara, from Osaka in Japan, gave a piano concert which satisfied the highest expectations…                               – Lahrer Zeitung     
 Junko Kasahara was convincing from the first sound onwards…her performance fascinated the audience with sparkling sounds which were light, elegant and fluent. The summit of her performance was J.Brahms' piano pieces Op.118. Enough opportunity was offered to observe the ability of the pianist and convince oneself of the strength of sound, dramaturgy of the performed ballades and the tender closing tones. A musical delight.                                       – Badische Zeitung
The Pianist J.Kasahara graced the audience with her masterful and sensitive interpretations and was honoured with the best commentaries.                                                                          – El Mercurio
Junko Kasahara played a fresh Mozart interpretation which sounded pleasant and clear. Commitment and sovereign arrangement moulded the piece.                                                – Die Elbe
Without reservation, the audience allowed themselves to become spellbound. There was a striking silence during the interpretation followed by loud applause. The remarkable dexterity of her fingers produced a profound musical marvel. The performance of this young pianist developed with a natural rhythm, was fluent – devoid of resistance – and expressed with much strength her feeling and internalization of this piece. A conviction that no one could oversee…                                                                                                                       – Republicain Lorrain
Junko Kasahara is young but already a blessed artist with a very good expressive potential. Without doubt, she possesses all necessary qualities for a successful career. She expressed a smoothness in her performance and virtuosity was allowed to run free…                                                                                                                                                            – Republicain Lorrain
Both of the young performing artists together demonstrated total harmony as well as individual experienced virtuosity.                                                           – Koellertaler Anzeiger
  Junko Kasahara, the internationally called for and experienced pianist, presented a classic-romantic evening to satisfy highest expectations. To hear was an artist who did not make it easy either for herself or her audience. She filled every line with her personal impetus. Her style is gripping, passionate and stormy rather than meek and orderly. She literally dives into the venture of playing the piano and does so with excellent technique and elaborately cultivated tones. She involves her audience in her world from first stroke onwards. She binds one through her unusual but consistently thought-out and well presented pieces. Her interpretation is without compromise; in the slower phrases she shows true feeling without for a moment becoming over-emotional.                                                                                                   – Die Rheinpfalz
 J.Kasahara from Japan performed with brilliance in A. Skrjabins' piece and also in the following Scarlatti which appears to musically suit her.                                          – Wochenspiegel Saarbruecken
 One, by all a polished Virtuoso…                                                                            – Saarbrueker Zeitung
 Junko Kasahara, trembling like a flame of candle, performed Mozart's concerto No.21for piano and orchestra. This young pianist gave her presentations to the audience with her brilliant technique of the piano performance and her comprehensions to music with its every essence. …We were able to listen to her Mozart – highly sensitive, a little sad, but playful and very lively-.                                                                                                                               – St.Petersburg Magazine
Junko Kasahara was a queen at the evening. She played concerto E minor op.11 by Chopin. The impression was as if Junko and Frederick understood each other completely. This great composition is overflowed with feeling of love, tenderness, passion and these were resonated by a sensitive talented soul of a performer. Chopin has been played much and in different ways, but Kasahara has created her own way to play Chopin. There were no too loud fortissimo and simple culimination in her playing. However, the audience appraised at its true worth by both will and power of this slim looking pianist, and tenderness and sensuality of the lyrical parts as well. Intimacy was heard without superfluous sentimentality. Her brilliant playing was characterized by lucidity and aestetic elegance. The music of Chopin as performed by Ms. Kasahara perceives a legacy of the european culture. Junko Kasahara acquired "the flight of fingers" and breathing the atmosphere of Russian musical culture, highly honoured in the whole world.                                                                                                       – intellectual Capital, St.Petersburg
…maybe Junko Kasahara has her own active Fujiyama deep in her soul! The performance of a young talented Japanese pianist produced such an impression. Although Junko looks very delicate and fragile, she was conquering the piano keyboard by a commanding and strong hand, making the major sounds go vertically to the sky – to the author, and minor sounds envelop the audience penetrating straight to the heart. And she did it! She made our experienced and sophisticated audience listen to the concert with bated breath. The prolonged and sincere ovation was the reward.                                                                       – intellectual Capital, St.Petersburg